Home » All Drawings » Skyrim Fanart – Skjor Sketch
Skyrim Fanart – Skjor Sketch
Drawing werewolves
This is Skjor, one of the members of the Companions, a faction of mercenaries in Elder Scrolls V: Skyrim who also happen to be werewolves! They can also turn you into one in case you wish to attend a blood-drinking ritual and run a few errands for them. Neat. I would hang out with the lot whenever possible, and wish to this day that Bethesda had fleshed out more dialogues and story for the Companions.
I started this sketch by hand with mechanical pencils, then brought everything to Photoshop and added the colors.
Needless to say being a werewolf is quite fun.
The Elder Scrolls V: Skyrim
A 2011 action-RPG game developed by Bethesda (same guys behind Fallout 3, Shelter and 4, along with other Elder Scrolls titles.) It has also been widely praised by several gaming sites and publications. I have several hours in this amazing game and can't seem to get enough of it, specially with PC mods for graphics, more consumables and equipments, and UI improvements.
(Also, Fallout 4 is SO EXPENSIVE right now around here, specially with the addiction of the Season Pass, that I definitely see myself playing more Elder Scrolls titles I own for the next few years. Bethesda is not known for lowering their prices so fast, or at all.)
Bonus Werewolf doodle: Farkas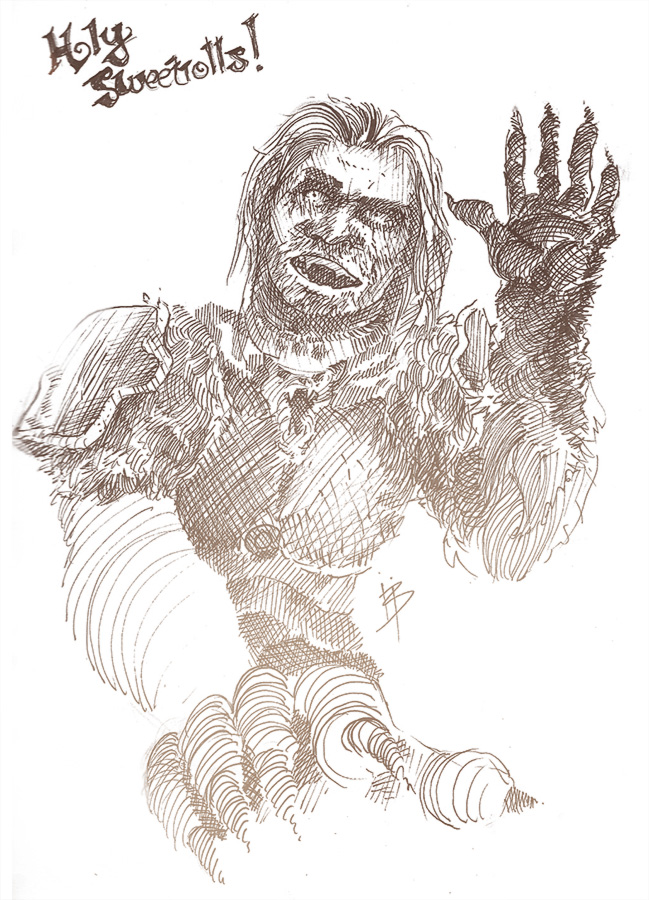 Sketched Farkas mid-transformation. In my headcanon he has a sweet tooth and needs constant Sweetrolls as fuel.