Home » English Entries » Patreon and new art print stores!
Patreon and new art print stores!
First announcement: Patreon
I've lauched a Patreon! It is a place in which content creators get financial support for their projects while building a community and offering exclusive content to their patrons. Creators can also share exclusive gifts to their supporters. Artists will usually offer things that may help other art students or please fans, such as exclusive illustrations!
Patreon can support me in creating and editing more quality content such as personal illustrations, studies, live streams and timelapses. My art videos are freely-available and can be encountered in my channel.
Here are some of my rewards, so far:
Entering draws for a monthly hand-drawn, high-res scanned sketch (non-commercial use only);
Exclusive access to sketches, WIPs and scraped concepts;
Voting on new themes for my studies;
Full-res and .psd from my studies;
Exclusive written or spoken material with insight on what I've studied during the month.
Let me know if you have any questions, and thank you!
♥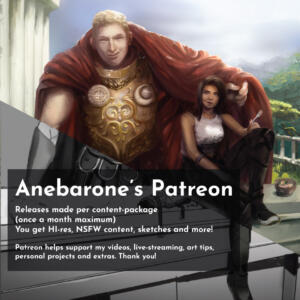 Note: If you reside in Brazil, you might want to check my Patreon bio for another support option, since Brazilian banks usually block Patreon (in fact, they block payments to many foreign companies.)
Second Announcement: Art print stores!
My art stores are open!
♥
https://society6.com/anebarone
https://www.colab55.com
Note: Colab55 charges in BRL and sends from Brazil. Also, each store offers different kinds of products for each illustration, so you might want to check both before picking anything that might've caught your interest.

Here's the link to my duvets, btw.
I've included some of my favorite and most popular works in those stores so far, but if you want to see how some other piece would look as a product, let me know!