Home » All Drawings » OC Ball – Tumblr Art Jams!
OC Ball – Tumblr Art Jams!
OC Ball – Tumblr Art Jams!
In 2013 we had the OC Ball , an open Tumblr art jam (when a group of artists/creators get together to work on similarly themed content) in which people were welcome to draw their original characters wearing fancy clothes and whatnot. Amaro Fruss, my slightly disturbed psychiatrist character, joined the ball's medical staff… And I also took the opportunity to doodle and submit a few more personal characters! Click his name above to see more art and content about him.
The jam was thrown by geekysideburns and sephiramy , with assistance from heysawbones.
Here is the official OC Ball blog!
"Amaro Fruss read the staff list and hurried to pack his belongings. He intends to join the medical staff (there is one, right?) as an excellent sideburns groomer, skilled psychiatrist and trembling sharpshooter; but before departing something must be done about his pet nightmares.
He'll be glad to join as a guest as well!"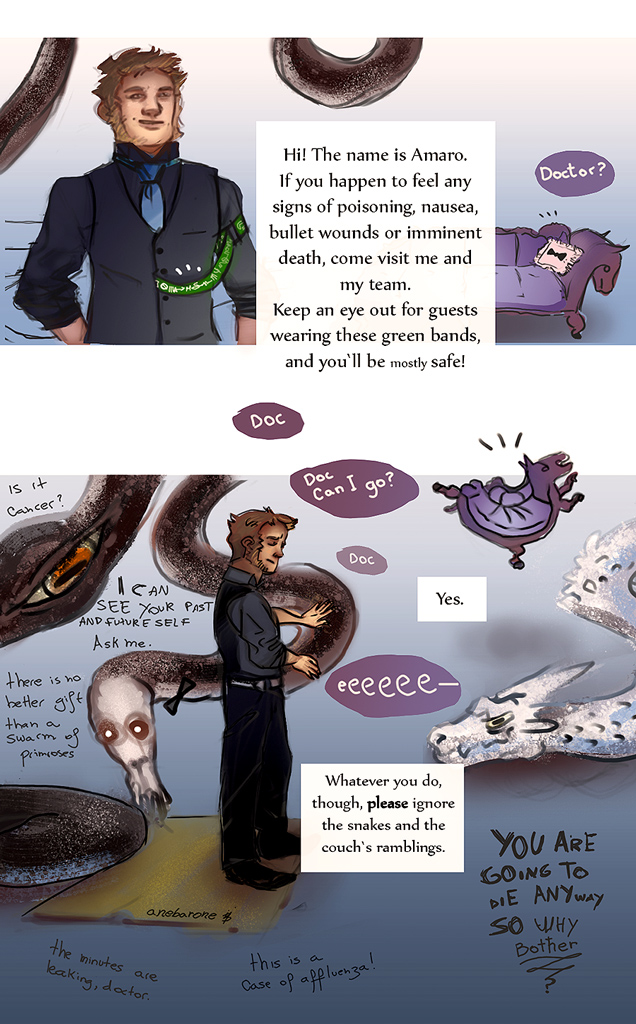 Not addressing his pet nightmares is strongly advised, though.
As for Amaro's acquaintances and other guests, Yozsi is on the lookout for any new message brought by his crows, as Nala and Atzader are a little too distracted to care.
Spoilers: Their hidden hands are on each other's butts.